1
« on: March 14, 2017, 11:31:00 pm »
Hello, my name is David, thanks for accepting me into this forum,
I would like to show my home built 2 DOF (degrees of freedom) seat mover motion simulator.
Just about everything was hand built, except for seat, TV, wheel and pedals, computer. The TV is a cheap 40", nothing special.
The seat holding frame, base, TV frame are all from 19mm thick plywood and yes its very sturdy.
The balance point underneath is a cut down tailshaft universal joint.
Im using re-motored actuators I was given, they are noisy as heck, but do the job, I replaced the 415v motors with 12v motors, and a custom feedback system.
Motor control is using a Pololu JRK 12v12 board, a very sturdy board and run via USB to the computer.
Motion software is Simtools and the best DIY software out there.
Im using currently dash software from another company.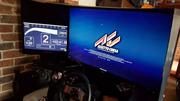 Heres a few videos
https://www.youtube.com/watch?v=BU_xNfg0RL0
https://www.youtube.com/watch?v=TGYfBy3FawA
Kindest Regards, David.